Dollar Spot
We offer an effective treatment against a fungus that deteriorates most golf courses in the world.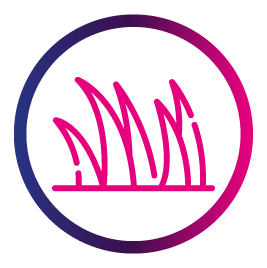 Dollar spot is a disease caused by four fungal pathogens, which affects warm- and cool-season turf grasses. The disease results in a poor turf quality and appearance, with silver dollar-sized spots, especially noted in the golf course. These spots are related to the release of toxins by the fungi, which affect the uptake of water and nutrients by the turf roots. The dollar spot is one of the most economically important turf grass diseases worldwide. Golf course owners usually spend 60–75% of their chemical budgets trying to solve the dollar spot issue. Attempts to limit the spreading of the disease have shown low efficacy at high cost, such as: 
Increase of drainage by top-dressing with organic matter 

Application of a fertilizer with a controlled active release and high nitrogen content.
Our solution offers a fast, completely green, free from any residues and low-cost treatment strategy. The low cost is due to the more effective treatment; in fact, while normally professional workers need to treat the golf courts during late evenings or early mornings, due to the fast degradation of active principles under UV light, Nanomnia's solution allows to minimize these costs, by ensuring a long activity time of the ingredients during day-time. The in field-tests have already proven a 50% prolonged activity with respect to current market solutions and a high efficacy on dollar spot disease.
The encapsulated formulation showed promising in-field results and will be soon ready for the market (TRL 7).
Do you want to know more about our encapsulation solution for the Dollar Spot? Fill in the form and we will contact you soon.